In a context of global malnutrition,
we aspire to become a major influence towards more nourishing,
tastier and affordable food products.
Our product portfolio consists of the vanguard in food solutions,
with leading technology and world class processes applied to each stage of the value chain.


From south america to the world
We only market ingredients of proven quality, produced using the highest quality raw materials, proudly grown and processed in South America.
Gugax Headquarters are located in Argentina, where food production is enough to feed over 10 times the domestic population (400 million people).

We know about nutrition and we want to make our food products available in every country.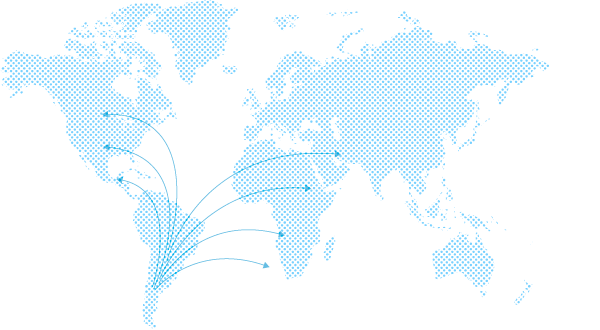 An extensive carreer
We have been around for more than 20 years and over the course of our experience we have developed a vast knowledge of the dynamics of the food industry, allowing us to innovate and always offer the best functional ingredients.
Expertise in food
Technical knowledge is key to develop the functional ingredients our clients need. We wish to work closely with you and we are always open to cooperate in the development of custom, tailored solutions.
Multidisciplinary team
Our food technologists work in close collaboration with commercial department to offer complete solutions, contributing to a strategic vision of your current and future challenges in food production.
Mission
Market products of proven quality, applying our extensive knowledge of the food value chain and our accumulated experience in global markets.

Forge strong and synergistic business relationships with reliable suppliers and customers, providing excellent service and promoting sustainable growth.
Vision
We aspire to be a reference of prestige and quality in the global food and functional ingredients industry.

We aim to become a major positive influence towards healthier, more nourishing and affordable food
Global presence
Global presence in more than 50 countries.

From the start, Gugax was conceived as a global company. That is why our products are currently present in over 50 countries, and we work day to day to conquer new markets.

We believe staying informed of market tendencies and the latest practices in food technology is a key factor to achieve sustainable growth and to remain competitive. This is why we attend to the major food exhibitions around the world.